Brian Dean – Grow Your Blog Fast
How To Turn Your Blog Into a

TRAFFIC MACHINE
Introducing: Grow Your Blog Fast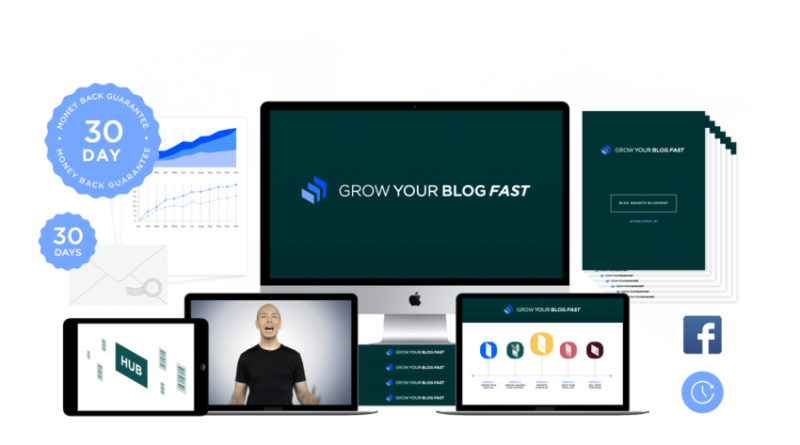 Join Grow Your Blog Fast today. Give me 6 weeks, and I'll show you how to drive targeted traffic to your blog, convert that traffic into email subscribers, and sell products to your new audience.
In other words: I'm going to give you the exact strategies, frameworks, tactics, templates, and benchmarks we use to drive targeted traffic on-demand.
So whether your blog is brand new… or you want to accelerate the growth of your existing blog, I'll show you exactly how to do it.
I've quietly developed and tested these strategies ever since I launched my first successful blog back in 2012, back when I ran a personal finance blog, and refined them over the past 7 years.
MODULE 1
How to Jumpstart Your Blog's Growth
My #1 strategy to jumpstart a new — or existing — blog's growth (this is the same process I used to help a brand new blog get 17,584 visitors from their first post)
In a crowded, competitive space? How "The Focus Formula" helps you and your blog stand out from the pack
Why every blog that wants to grow needs to focus on RLLs. In fact, RLLs helped me boost my traffic by 167.6% in 14 days
A list of advanced copywriting strategies designed specifically for blogs (you won't find these anywhere else)
The easy way to get 2x more social shares on every post
The exact process I use to find untapped blog post topics that my competition doesn't know about yet
How to quickly establish yourself as a go-to expert in your industry
The fast way to outline and write blog posts that get results (no more staring at a blank Google Doc)
MODULE 2
Publish Amazing Blog Content
Why the "How I Did It Post" turns the traditional case study on its head (and works 10x better)
The 6 remarkable Blog Post Templates that I use to drive targeted traffic on demand
How I get an average of 257 comments on every post that I publish
The #1 most important thing to include in every post (getting this right will instantly bump up your traffic)
How to create "Custom Posts" that make people say "Wow, this post looks amazing!"
Advanced: how to create content that bloggers and journalists in your industry WANT to link to
Our Content Creation Checklist for making sure every post is complete and compelling
The 2 types of content intros that kick off 90% of my posts, newsletters and more
Why most "ultimate guides" flop — and the advanced steps I take to make sure ours hit home
MODULE 3
Advanced Promotional Strategies
How do you promote your content… without being a pushy jerkface? A new strategy that I call "The Anti-Share"
How to get in touch with bloggers that are "out of your league" – and how to convince them to feature you on their blog or podcast
Detailed outreach teardowns of my all-time favorite (and least favorite) outreach emails
Advanced: A list of 4 new promotional strategies that are working great right now
The truth about guest posting on blogs – and why "10x Guest Posting" works, (you guessed it) 10x better
How to promote your content on social media the right way with NCS Posts
Why "Blog Campaigns" are the little-known secret behind most blogs that seem to "come out of nowhere"
How to use a strategy called "The Content Multiplier" to drive "on demand" traffic to your blog
MODULE 4
Build Your Email List In Record Time
Why Content Upgrades don't work as well as they used to… and the NEW strategy that's crushing it right now
Exactly where to put opt-in forms on your blog (these are lessons we've learned from hundreds of A/B tests)
The simple way to create a lead magnet that your readers will WANT to get their hands on
The #1 strategy that's helped us grow our list to 145,699 total email subscribers
Advanced tips on optimizing your blog's homepage for conversions
The 4 strategies we focus on to grow our list by X subscribers every month
Why testing button colors is a waste of time… and what to do instead
Advanced: How to use "Padlock Posts" to grow your email list in record time (no one is using this powerful strategy right now!)
MODULE 5
How to Launch Products To Your Blog's Audience
How "The ISL" helped us hit our first 6 figure launch. And how we used this same exact approach to scale up to 7 figures
Forget webinars, funnels, segmenting and other complicated nonsense. I'll show you what's really working in the world of product launches right now
Teardown: I give you the exact sequence we used on a launch that did nearly 7-figures in revenue
The 4 questions you need to ask to know if you're ready to launch your product
How to write high-converting emails that don't sound "salesy" (including the exact templates we use on every launch)
My personal Launch Checklist for making sure every launch goes smoothly (and most importantly, converts)
That's just a small sample of the frameworks, strategies, templates, swipe files and teardowns that's inside of the Grow Your Blog Fast program.
I've packed the course with insanely actionable tactics that you can use to shortcut your blog's growth.
Inside the program you'll also learn:
Exactly how long your posts should be (hint: probably not as long as you think)
How to appear as a guest on popular podcasts in your niche… even if nobody knows your name
The right (and wrong) way to share new posts on social
media

ADVANCED

How to outline, write and send newsletters that get opened and clicked
The specific headline templates I use for blog posts, videos and subject lines
How to get your blog features on major media outlets (hint: it's MUCH easier than you probably think)

ADVANCED

How to personalize outreach emails… including lots of real life examples
An easy tactic you can use to get more shares on every post
How "Content Partnerships" got my brand new blog featured on Inc.com and HubSpot

ADVANCED

How to guest post on blogs that are "out of your league"
How to write conclusions that push people to share and comment on your new posts
How to publish "Focus Content" that makes people see YOU as an expert in your field

ADVANCED

The 4-step process I use to spread the word about my new content on Day 1
How to find new, untapped blog post topics that other blogs in your space don't know about yet

ADVANCED

And much more!
The Complete System for Starting – And Growing – A Successful Blog
Every Grow Your Blog Fast module comes with a set of Advanced Training Resources, packed with advanced strategies, detailed field reports, our internal processes (SOPs), worksheets, checklists, and more.
You won't find this material anywhere else.
Backlinko Insider: Advanced Blog Copywriting Strategies
It's no secret that copywriting can instantly make your content stand out. That said: most of the copywriting advice out there doesn't apply to blog content.
Enter: this advanced lesson. In this lesson you'll see the exact tactics I use to write super compelling blog content… .content that makes people want to read and share.
Blog Design Strategies
Will design make or break your blog? No. But well-designed blog content can give you an edge over your competitors. See the full collection of blog design strategies we use at Backlinko… strategies that literally anyone can use to publish beautiful-looking blog content.
Backlinko Insider: How I Find Proven Blog Post Topics
In this exclusive over-the-shoulder tutorial, I show you the exact process I use to find untapped blog post topics. See the exact process (and tools) that I use –and how I use them.
How to Position Your Blog
In a competitive space? Well, in this advanced training you'll see exactly how to position your blog so it stands out from the other blogs in your niche. The best part: Standing out is MUCH easier than you probably think.
In fact, this is the same process I used to get the entire digital marketing world talking about Backlinko in just a few months.
Backlinko Insider: How to Get More Blog Comments
Ever wonder why certain blogs get dozens — or even hundreds– of comments on every post? This exclusive resource has the answer. In fact, I walk you through the specific steps we use at Backlino to generate 200+ comments on every post that we publish.
Blog Post Teardowns
In this detailed video, I breakdown a number of our best (and worst-performing posts). I also give you the big lessons that I learned from each experience, and how you can apply these lessons to your own blog.
I also critique a number of blog posts on other websites so you can see what's working right now.
Backlinko Insider: How I Write 30k Words Per Month
Last year I figured out how to triple my writing output… without stressing out or burning out. I literally went from 10k words per month to 30k words per month within the span of a few weeks.
The best part? I actually feel better at the end of a writing session than I did before. Writing went from a struggle to something that feels smooth and effortless. I reveal the game changers that worked best for me in this lesson.
Advanced Outreach Tactics
Ready to take your outreach to the next level? Then you'll love this short lesson where I answer questions like "what's the best time of day to send an outreach email?" and "How do you personalize outreach emails at scale?".
Like all of our Advanced Training Resources, this lesson is super tactical and features a ton of real-life examples.
Lead Magnet and Popup Teardowns
Want to not just see examples of lead magnets and popups that are working great right now, but WHY they work? Then you'll love this lesson because it contains a ton of insights that you can use to turn more of your visitors into email subscribers.
Launch Swipe File
The complete sequence we used for a near 7-figure launch. See the exact emails, subject lines, CTAs, schedule… literally everything we used for that super successful launch.
Here's what you get:
Unlimited Consulting With Brian Dean: That's right. 30 days of email-based consulting directly with me.
Backlinko Insider Sessions: Get access to never-before-seen material from "behind the scenes" at Backlinko.
Over-The-Shoulder Tutorials: Watch me live as I execute the most important techniques from the course.
Never-Before-Shared Templates, Worksheets and Checklists:Each module of the course comes with a full set of handy guides and resources to make implementing the material fast and easy.
Real-Life Case Studies: I share real numbers (and lessons) from our most successful blog posts, content promotion campaigns and product launches.
Swipe Files: We included a hand-picked collection of posts and launches that you can use to study, reference, and use for inspiration.
Proven Templates: Never get "blank page syndrome" again. Our proven templates make writing world-class blog content a cinch.
Detailed Teardowns: This is a full analysis of several different content and promotional campaigns. Plus, in-depth copy and design critiques from different industries so you can see what works, what doesn't, and what to apply to your blog to accelerate your growth.
The Complete Grow Your Blog Fast Training Course: This includes full access to all of the training materials (including downloadable videos, worksheets, and audio files).
Lifetime Updates: Future updates and upgrades at no extra charge to you.
Sales Page: Download Files Size: 11.69 GB
This content is locked For
Member Only
Sign Up to see all our download links and hidden content.
100% Satisfaction Guaranteed

Download as much as you need

You can choose from two membership options:

Monthly or LifeTime

Starts at $30